We thought we'd take a minute to make a few recommendations on snow shovels. We spend a lot of time with our shovels, and know that choosing the right tool can make a big difference when a lot of snow comes down.
So – how do you choose the right shovel?
1. One size does fit all
Rather than buying a number of different shovels, we recommend buying one mid-sized (18″) shovel. Much larger, and even the strongest shoveler will get stuck behind a mountain of snow. Much smaller, and it will take forever to get that sidewalk cleaned off.
2. Plastic, please
Some shovels come with a metal edge that – in theory – would do a better job of scraping down to the sidewalk. Our advice – avoid shovels with metal edges. They get stuck on every bump, crack, and crevice – a good plastic shovel gets through more snow, because it doesn't get stuck on every push.
3. Avoid the gimmicks
Bent or extendable handles, unusual shovel blades, and other gimmicks should be avoided. This isn't rocket science – a basic, plastic shovel available from Home Depot, Rona, Canadian Tire, Home Hardware, or Lowes is all you need to get you through the winter.
So – what does a good snow shovel look like?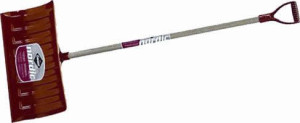 Now – go out and buy one before the snow arrives.
Prefer to have someone else do it? Check out the details & pricing of our snow shoveling services, or get an instant quote online.